BIOGRAPHY
"Good evening, ladies and gentlemen...how are you...doing tonight? Good? Good! My name is...Alexander The Poet...and what I do is, I read romantic poetry...while wearing tight black leather pants... while exposing some very good ole' moderate chesthair...in the shape...of a heart!...And when I read my poetry...I prefer to read it...to the music...of whales humping...It gets me...in the mood!!!"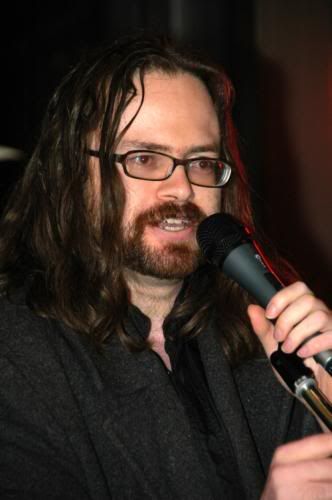 The Origins Of ATP
My real name is Alexander **************, and I was born in Kiev, Ukraine on May 22, 1975. Upon turning 4 years old, in January of 1980, my family and I moved to The United States Of America. I grew up and was raised in the Italian/Jewish neighborhood of Bensonhurst in Brooklyn, NY. Then, in July of 1991, I moved to East Brunswick, NJ, where I still reside today.
Ever since I can remember, I seemed to have had this natural ability of writing poems that rhymed, in the "ABAB" format. It came really easy to me. It felt like it was an inborn trait or something. However back then, I mostly wrote poems on grass, trees, birds, etc.
The Birth of ATP
Near the end of 1997, I had a part time weekend job scanning insurance documents. At that job, I met a new friend, Chris. We would end up bullshitting most of the time however, and whenever I had time to kill, (which we tried to make real often), I'd start writing poems. Chris took note of that and then suggested to me that since I was so good at writing poems, why not try writing poems that were about my own sexual frustration and my wanting to get laid? And that ladies and gentlemen, was how Alexander The Poet was born!
On Valentine's Day in February of 1998, I participated in a Rutgers University "open mic night". On that night, I read 4 poems that would turn out to be my most popular poems to date. "She Gave Me Wood", "The Day I Spanked My Monkey", "When She Played With My Cock", and "Shit".
The initial reaction I got from the crowd that night was mixed. Some laughed. Some were silent because they were shocked. And some called me "Freak!"
But that kind of response was enough to keep me going!
The Evolution Of ATP
I have since evolved into having one very unique act. I wear tight black leather pants, have chest hair shaved into a shape of a heart,
(along with stomach hair in the shape of an upside down heart)
and I prefer to read my poetry to the music of whales humping. In addition, after each poem, it is quite customary for me to remove one item of clothing. Generally speaking, I do roughly 5-6 poems , or a 10 minute set. I never go fully nude on stage. It's bad enough people are in pain from my poems, they don't need to see my small genitalia.
When I'm not out performing, I'm busy writing new poems and uploading them to my official website, http://www.alexanderthepoet.com
QUOTES
"My name is Alexander The Poet, and I have a heart-on for you!"
"Don't thank me for coming...That's a given!"
"Every performance I do is special, because I might not be allowed to perform there again."
"I Don't Suffer For My Art, People That Listen To It Do!"
"They say my poetry moves people. It moves them far away from me as fucking possible!"
ACCOLADES
Thus far, I have written more than 750 poems. I have been banned in 11 venues on an "open mic night".
I was featured in The Home News Tribune and Asbury Park Press, which are both popular newspapers in New Jersey, as well as The Aquarian, which is a popular weekly zine on local music in NJ.
I was mentioned in the August 2003 issue of FHM Magazine where the editors labeled me, "X Rated Shakespeare".
Xtreme Magazine, a strip club publication, said "Alexander The Poet is one of the most controversial poets on the scene today".
Tri City News, an arts weekly out of Asbury Park, NJ said I was "VERY funny...and disturbing".
One comedy booker, Patrick Cashin, told me "It seems the best shows we do are always the ones you're a part of."
JanesGuide.com, a well known porn review site, rated my site "Original", "Quality", and "Vamp's Pick" on October 12, 2004
My biggest break so far came on April 18, 2002 when I submitted some poem mp3s to Wankus, a radio dj/program director of a 24 hr internet sex radio station, ksexradio.com , based out of Burbank, CA. On that day, Wankus incorporated my poetry, nightly, on his show, The Wanker Show.
As a result of having exposure on The Wanker Show, I have made many connections in the adult industry. My poems have been published repeatedly on many adult websites.
UPDATED 04.27.08